2. Urban Art Festival Siegen 2022

Warum
Mit der Arbeit Siegwelle zeige ich einen Beitrag zum 2. Urban Art Festival in Siegen. Unter dem Titel ALLES AM FLUSS wird der Verlauf der Sieg als verbindenedes Element zwischen den künstlerischen Aktionen genutzt. Als Orte sind Bereiche gewählt, die gerade nicht als schön und einladend erlebt werden und daher in der Regel keine Beachtung erfahren. Hier greift die Kunst ein, unterbricht den Alltagstrott und macht aufmerksam.
Why
With this work named Wave of the Sieg I contribute to the 2nd Urban Art Festival in Siegen. Under the title All along the Riverside, the course of the Sieg is used as a connecting element between the places of artistic actions. Areas are chosenfor intervention which are not usually experienced as beautiful and inviting and consequently are not much cared for. This is where art intervenes, interrupts our daily routine and draws attention.
Wo – Where
Meine Arbeit ist entlang der Straße Siegufer platziert. Sie ist Teil eines Radwegs, der die Siegener Stadtmitte mit den nördlichen Stadtteilen verbindet. Viele Studenten nutzen ihn täglich, um die Einrichtungen der Universität aufzusuchen.
My work ist place alonside a road called Siegufer (Banks of the Sieg), wich is used by many people as a bike connection between the city center of Siegen and its northern parts. Especially for students it ist part of their way to university institutions.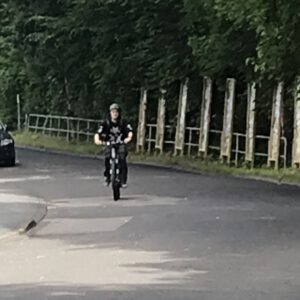 Die Straße ist sehr ruhig. Gegenüber von den Wohnhäusern vermutet man kaum den Fluss. Er verbirgt sich hinter ziemlich dichten Büschen, hinter denen man auch die Schnellstraße sehen und hören kann, die den Siegener Süden mit Kreuztal verbindet. Sie ist sehr stark befahren und das Rauschen der Fahrzeuge verbindet sich mit dem Geräusch des Wassers und dem Rauschen der Blätter.
The street is very quiet. One hardly notices  the river opposite the residential buildings. It is hidden behind fairly dense bushes, behind which you can also see and hear the expressway that connects the south of Siegen with Kreuztal. It is very busy and the rustling of the vehicles is combined with the sound of the water and the rustling of the leaves.
Worum es geht – What it is about
Meine Arbeit ist digital entstanden. Mit einem Stift und einem Zeichenprogramm habe ich das gemacht, was ich mit Stift und Pinsel in dem klassischen Medien auch tun würde: Ich habe auf Farbe und strukturen in der Landschaft reagiert, sie verarbeitet und zu etwas Neuem gestaltet.
My work was created digitally. With a pen and a drawing program, I did what I would normally do with a pen and brush in traditional media: I reacted to the color and structures in the landscape, processed them and created something new.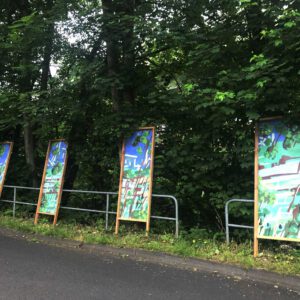 Das Ganze wurde im großen Format auf ein Netz gedruckt. So ist der Windwiderstand nicht so groß und die Arbeit ist in Freien sehr haltbar.
So stellen die bunten Farben einen guten Kontrast zur Umgebung her, gleichzeitig verbinden sich Farben und Formen gut mit der Umgebung. Sie entwickeln einen Dialog zwischen Kunst und Natur.
The whole thing was printed in large format on a mesh. So the wind resistance is not so big and the outdoor work is very durable.
The bright colors create a good contrast to the environment, while at the same time colors and shapes combine well with the environment. They develop a dialogue between art and nature.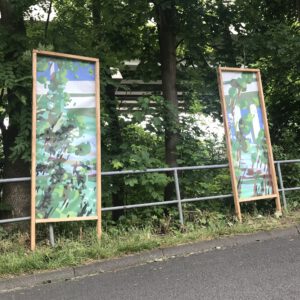 Dabei werden neben den Elementen auch der Natur auch die des Flusses und auch der Bebauung mit einbezogen: Ein Fluss in der Stadt. Die 10 Bildtafeln sind mit einem Abstand von jeweils 2 Metern befestigt. Der Betrachter kann sie kaum auf einen Blick wahrnehmen, obwohl der schnell merkt, dass sich das Motiv der einen Tafeln auf den benachbarten Tafeln fortsetzt.
In addition to the elements of nature, those of the river and of the buildings are also included: a river in the city. The 10 panels are fixed at a distance of 2 meters each. The viewer can hardly perceive them at a glance, although he quickly notices that the motif of one panel is continued on the neighboring panels.
Damit lädt die Arbeit ein, bewusst die gegebenen Informationen zusammenzusetzen, so wie sich in unseren Köpfen die Wahrnehmung der Welt aus vielen Einzeleindrücken und Informationen zusammensetzt.
Das Motiv der Welle macht den Eindruck noch dynamischer und und betont die optische Verbindung der Elemente untereinander.
The work invites us to consciously put together the given information, just as our perception of the world is made up of many individual impressions and pieces of information.
The motifof the wave makes the overall impression even more dynamic and emphasizes the visual connection between the elements.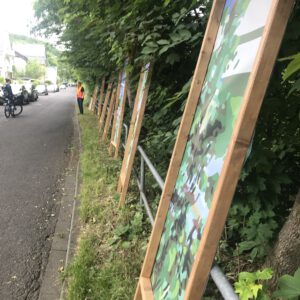 Ingo Schultze-Schnabl, 2022